Sports Programme @ Wigmore Primary School
This part of the website is dedicated to our schools sport programme.
Wigmore Receive afPE Quality Mark With Distinction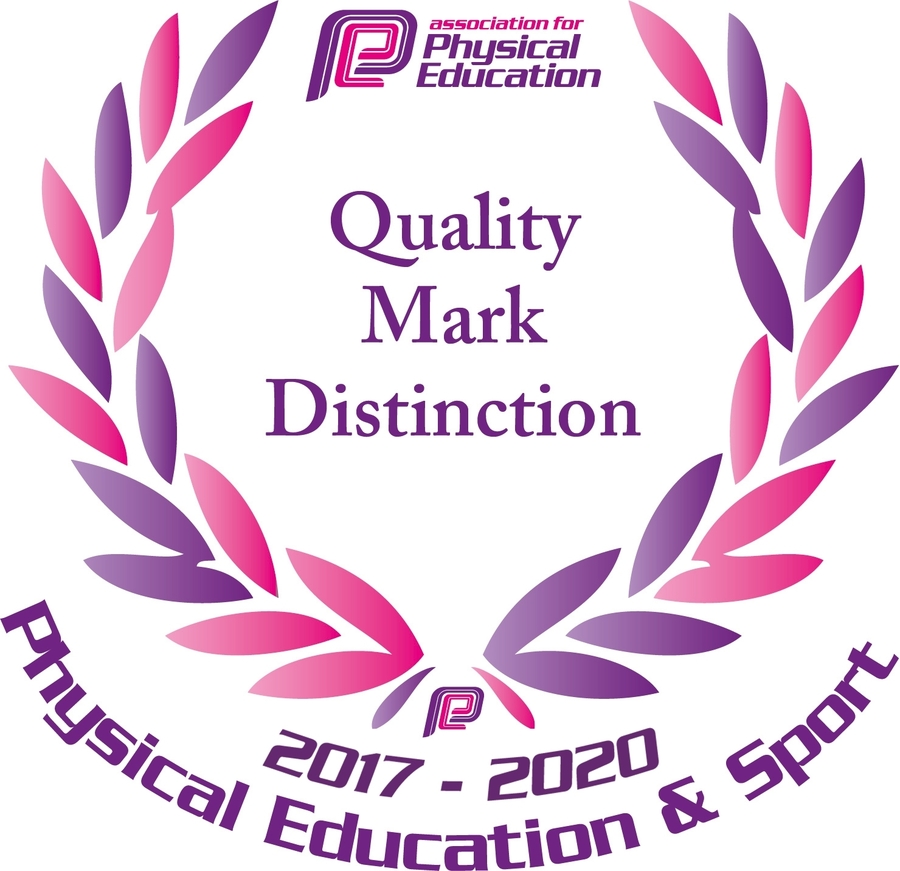 I am extremely proud to announce that wigmore primary has been awarded the AFPE quality mark. We have also received the quality mark with distinction, which is the highest accreditation possible. This is an incredible achievement for the school and i would like to thank staff, pupils and parents for their help which has ensured we have a fantastic sports programme here at Wigmore.
The purpose of the afPE Quality Mark
A prestigious award is a powerful way of celebrating success. The afPE Quality Mark will recognise, through a succinct self review and evaluation process, the strength and quality of physical education and sport in your school. It will raise the profile of the subject and the school both locally and nationally and will promote the high quality work that is being undertaken on a day to day basis. High quality physical education and sport makes a difference to the learning and experiences of children and young people both within the subject and more widely across the curriculum.
The benefits of the afPE Quality Mark
Ensures rigour and sustainability in the planning, monitoring and continuous development of high quality physical education and sport
Recognises outstanding practice and innovation in physical education and sport
Raises the profile of physical education and sport at a local, regional and national level
Involves individuals and groups in recording and celebrating success so that the school 'stands out from the crowd'
Recognises best practice in physical education and sport and provides a platform for sharing excellence and success
Promotes a positive message to the local community
Celebrates excellence in the organisation, management and delivery of physical education and sport
Showcases how

PE and sport contributes to whole school improvement
Platinum Kite Mark Awarded
I am delighted to announce we have just been awarded the new School Games Platinum Mark, and are one of the first and only schools in Luton to achieve this.
The School Games Mark is a government led awards scheme launched in 2012 to reward schools for their commitment to the development of competition across their school and into the community. Participating in this process allows schools to evaluate their PE provision and assists them in developing an action plan for future progress.
To achieve the new Platinum level, schools must have successfully held a Gold award during the academic years 2013 - 2018 consecutively as well demonstrating the school's achievements through case study evidence.
Sport and competition is currently thriving in Luton due to the huge range of sporting competitions held throughout the School Year organised by Luton's School Games Officer. Wigmore ensure that children are able to experience competitive sport with 100% of pupils taking part in intra competitions and 77% of pupil's competition in Luton School Games Competitions.
After last year's success of being awarded The Association for Physical Education Quality Mark for Physical Education and Sport, (one of only two primary schools in Bedfordshire to achieve the accolade), we are proud to continue our sporting ethos within the school and this award helps showcase the great commitment and positive attitude shown by pupils, staff and parents towards sport.
Wigmore Primary Sports Premium Funding 2020/2021
Wigmore Primary Sports Premium Funding 2019/2020 With Impact
Latest Sport Fixtures Events
There are currently no events.
Calendars page(s): Sport Fixtures >>

Another incredible performance from the pupils, parents, staff of Wigmore Primary school. We finished 1st in Luton, 5th in the East of England and 47th nationally. We finished with an amazing 88% of our pupils cycling/scooting/walking to school. We had lots of cycling and scootering activities including Bling your bike / scooter, Lunch clubs and bike & scootering PE Lessons. Well done to everyone who participated and looking forward to next years event already.
Luton Schools Indoor Athletics Virtual Event 2020
Well done to all KS2 pupils who participated in the recent virtual athletics event. Pupils competed in a variety of athletic events including long jump, speed bounce, 100meter dash and many others. Mr Marshall & Mr Betts were very proud of the effort and determination shown by all pupils. A video slideshow can be found on the results section of school website (click on link below).
Wigmore Primary Virtual Sports Week 2020
Thank you to everyone who participated in our virtual sports week. Very proud of you all. Congratulations to Mechanics who won overall. Enjoy the video to celebrate the week.
Wigmore pupils strike gold at swimming gala
Wigmore win an incredible 23 medals and the winners shield at this years Luton schools swimming gala. Both teams did incredible well. For photos and full report please see result section of school website.
So very proud of our cross country team. All pupils excelled and their hard training paid off. Yr 5 mixed team, Yr 6 boys and Yr 5 boys teams all won their races winning the gold medals. #teamwigmore. For photos and full report please see result section of school website.
Well done to our Yr 4 and Yr 5 Gymnastics teams at the @LutonSchGames competition! They all performed amazingly well and we are so proud of them.
Yr 3&4 - 1st place!!!! Yr 5 - 4th place!
Next stop for our Yr 3&4 team is the @BedsSchoolGames comp! Excellent effort by all involved! For photos and full report please see result section of school website.
Sportshall Athletics County Finals
Congratulations to the Yr 5/6 athletics team who won this years County sportshall athletics finals. Incredible performance from the all the pupils. Both PE teachers are very proud of the whole team. For photos and full report please see result section of school website.
Sportshall Athletics Town Finals
Congratulations to the Yr 5/6 Sportshall athletics team who won silver at this years finals and who have now qualified for the County Finals at the end on May. For photos and full report please see result section of school website.
Well done to our Girls Futsal team who are in the top 7 teams in the whole of Bedfordshire. To get to the county finals the girls had to navigate their way through the Luton competition, in which they were narrowly beaten 1-0 in the final despite hitting the cross bar in the dying seconds. Next up was the county tournament. After a long trip to Bedford the girls held their own against some incredibly strong opposition and finished the day as one of the 7 best teams in Bedfordshire.
Congratulations to our Yr. 4 Dance team who recently won this year's Luton Schools dance event. The team have sacrificed their lunchtimes and free time to ensure they were ready for the event and all their hard work payed off. The teams Tokyo 2020 themed dance wowed the judges and the team has now qualified for the county finals in March.
Well done to our 13 cross country runners who attended the Luton School Games Cross Country competition on Thursday. Despite the imminent threat of rain, the runners showed fantastic determination to achieve some outstanding results. The races began with the Year 5 Girls, who finished in 3rd place overall, with Nicole finishing in an excellent 4th place. Next, was the Year 5 Boys race, in which Archie deserves a mention for finishing in 4th position in a very close run competition. Finally, the Year 6 boys achieved an incredible 1st position overall, of which Lex came in 1st place, thus crowing him the best cross country runner in the whole of Luton. Glad to see that all of the training paid off. Well done!
COUNTY CHAMPIONS!!!!
Well done to the yr 6 golf team who have just won this years county final. Very proud of the whole team. For photos and full report please see result section of school website.
Well done to the athletics team who won 7 medals at yesterday's town athletics finals including gold, silver and bronze. Proud of the whole team who finished 4th overall. For photos and full report please see result section of school website.
Congratulation to the Yr 6 golf team who have won this years Luton school golf competition and have now qualified for the county finals in July. For photos and full report please see result section of school website.
Yr 4 Golf team win another Gold for wigmore at this years golf competition. For photos and full report please see result section of school website.
National Sports Week 2019
Wigmore Primary inspires a new generation.
Wigmore Primary pupils participated in this year's National sports week (24th June - 28th June). The aim for national sports week is to have pupils active 60 minutes throughout each day this includes break and lunch. The other focus is the '5 ways to Wellbeing'. Be active / Connect / Give Back / Take notice / Learn. As a school we were lucky enough to have a whole host of activities throughout the week including world cup activities of cricket, football and netball organised by some of our yr 6 sports leaders. All pupils also participated in active lessons, mindfulness sessions and during break and lunch we had a smoothie bike machine for pupils to use. Plus lots of other events. Thanks to all staff, pupils and parents for getting active.
British Indoor Athletics Championships 2019 Trip
Wigmore Primary had a great school trip to the Indoor British Athletics Championships at Arena Birmingham. Pupils were inspired by watching some top Athletes such as Katarina Johnson-Thompson, Laura Muir, Dwayne Chambers plus a whole host of top athletes.
Wigmore help Saracens to Victory!
On Saturday 5th May Wigmore pupils had a fantastic opportunity to watch Saracens play Gloucester in the rugby premier league.
At half time our pupils played 8 minute matches against each other on the pitch in front of 10,000 spectators. This was a great way for the children to show off their skill and team work, as they often demonstrate so well in PE lessons.
The children had a fantastic time! The day ended well with Saracens winning 62 - 12.
Day of inspiration @ Wembley Stadium
15 pupils who have been identified as gifted and talented in Literacy were given the amazing opportunity to attend a journalism workshop at Wembley stadium. Pupils were given a stadium tour and were also taught by a sports journalist on how to interview and up skill their work. Great day had by all and huge thank you to unleashing potential for putting on the event
Women's Cricket world cup 2017
On Tuesday 27th June 15 lucky pupils attended England's must win match vs Pakistan. The game was held at Leicester cricket ground and there were a whole host of cricket activities for the pupils to get involved with as well as watching some top class cricket.
England won the match, winning by 107 runs thanks to an incredible innings from Natalie Sciver who scored 137 runs off just 92 balls.
Pupils loved the whole occasion and have been inspired to emulate the sporting stars.
Club Links @
Wigmore Primary